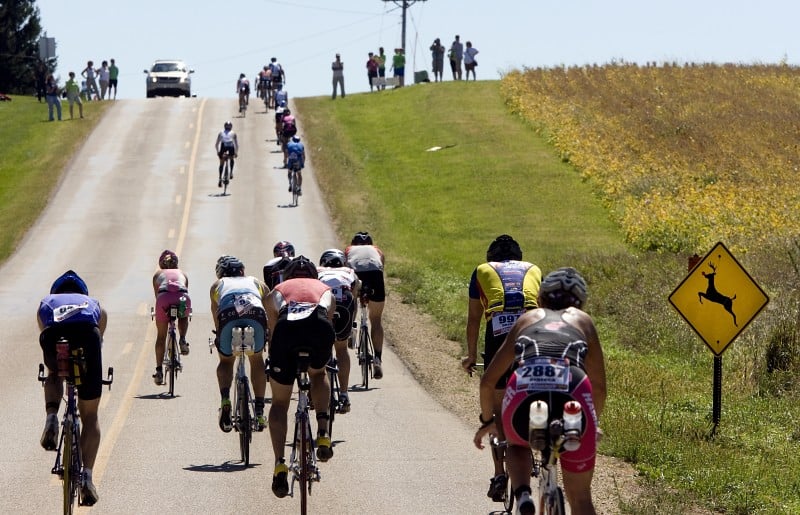 TRI FITNESS IRONMAN WISCONSIN CAMP
June 20-22, 2014
Prep for Ironman Wisconsin with our weekend camp!
You've dreamed about this moment. Before you fall asleep, when you're bored at work, when you're driving home.
The crowd is roaring.
Mike Reilly declares, "You are an Ironman!" as you run past the finish line, arms in the air in a triumphant display of fitness.
You did it!
But first you have to get there. Ironman is tough. One of the toughest one-day challenges you will ever face.
You're putting in the training time to get ready for this life-changing event. Now bring it home with our weekend camp.
Take advantage of our coaches' expertise in Iron-distance events, and become familar with the IMWI course in a fun and fully-supported environment. On race day, you'll be glad you did!
Swim in the waters of Lake Monona - smell it, taste it, experience its clarity (or lack thereof...). Knowing what to expect can be a boost when there are 2400 other swimmers surrounding you.
Ride through the rolling farmland on the bike course, and tackle the big hills that are semi-famous on this course. This camp will give you an excellent idea of how, when and where to conserve your energy, which is one of the most important factors when trying to cross that finish line in under 17 hours.
You've sacrificed your time with family, friends and work. Don't let this moment escape - do your best to prepare for what will be one of the most exhilarating moments of your life!
And this isn't just for those racing IMWI. Because we've scheduled the camp earlier this year, if you're doing another IM-distance race during the summer or fall, this camp would be a great tune-up before your big day.
The coaches will be Ironman finisher and Tri Fitness founder Vicki Ostendorf, and certified swim coach (and accomplished triathlete) Dennis Mohagen.
When: Friday, June 20th through Sunday, June 22nd
Where: Madison, Wisconsin – Sheraton Hotel
Schedule*:
Friday - Meet at 12 pm at the Sheraton meeting room to discuss the ride out to Verona. From 1pm to 4pm, ride out to Verona, complete one loop then back to the hotel.
At 6:30pm you will have dinner (included in cost) and your first seminar on pre-race/race day nutrition and what to pack in transition bags.
Saturday morning - Meet for breakfast, head to Lake Monona for a 1.2 mile swim then take the out to Verona to ride one loop and back to Madison for a 13 mile run
Saturday afternoon - Seminar on how to approach your IM race & mental strategy. Snacks provided.
Sunday morning - Quick breakfast and then head out for an open water swim in Lake Monona with kayak support, a 50 mile ride followed by a 6.5 mile run.
Sunday 1 pm- Wrap up meeting and departure
*Subject to change
Cost without hotel room: $375.00/ $300 Tri Fitness Coached clients
Cost with hotel room: $600.00/ $525 Tri Fitness Coached clients
Share a room with another athlete: $460.00/person/ $395/person Tri Fitness Coached clients
Space is limited- register NOW!
For more information contact vicki@trifitnesswbl.com or give us a call at 651-426-3619.
Thank you to our sponsors: